Arguably America's best export (yep, I went there), brunch is a meal enjoyed by many. Usually ranging from as early as 9am to as late as 4pm, brunch is the perfect weekend meal; it provides comfort, laziness and is without time restrictions. Whether you're fresh as a daisy and want a big meal before an active day out, or you're suffering from the night before, heading out for Brunch is always the solution!
Brunch spots serve everything from a traditional Full English Breakfast to an all-American pancake stack, steak and eggs to breakfast cocktails. What more could you ask for?
With a sea of different brunch spots in Manchester, it can sometimes be a bit of a mission deciding which one to visit. Should you go back to the same place you always go and love, or, branch out and try something different? There's too much choice!
That's why we have compiled our list of the best brunch spots in Manchester that we love to visit. The majority are in the city centre, but there are some in surrounding areas too.
What's the vibe: If you want a taste of LA without having to leave Manchester, FoodWell is the spot for you. The newly opened deli, restaurant and yoga studio all contribute to their ethos of mindfulness and wellness. It's a tranquil spot in the heart of bustling Spinningfields.
What should you eat: If you want a classic brunch dish, opt for the Steak and Eggs. Feeling more adventurous? Sample their jalapeno cornbread with black bean salsa.
Price range: Around the 9-11 mark.
What's the vibe: Imitating the old Irani Cafes of Bombay that have almost gone extinct, Dishoom delivers the best of Bombay's rich culture and cuisine.
What should you eat: You have to try the Wrestler's Naan Roll; smoked streaky bacon, peppery pork sausages and runny-yolked egg inside a freshly baked naan. We're not drooling, you are.
Price range: Around the 10-12 mark but worth every penny!
What's the vibe: Beginning as a humble market stall trading at weekends, Trove is now a popular local restaurant. What was once a husband and wife team has now developed into a collection of talented artisans making food from scratch, by hand, with a central focus on organic ingredients and locally sourced produce. It's amazing any time of the day, but people tend to flock there for the brunch.
What should you eat: Anything that comes with bread! Their artisan bread is homemade, and there are five different kinds to choose from.
Price range: 7-9 pound mark, it's very well priced considering how much is homemade.
What's the vibe: Claudio and Emily opened Federal in 2014 and have ended up creating a community of like-minded souls who are passionate about great coffee and amazing brunch. The Antipodean culture is what sets them apart from the crowd.
What should you eat: The French Toast is to die for; macerated berries, white chocolate and almond crumble, whipped vanilla mascarpone and salted caramel.
Price range: Really depends on what you order, between 8-10 pounds.
What's the vibe: Alabama's All-American Eatery does what it says on the tin; brings the best of authentic American cuisine to the eager streets of Manchester!
What should you eat: One thing Americans do sublimely is buttermilk pancakes and waffles!
Price range: Almost everything is £9.
What's the vibe: The Koffee Pot is a Mancunian institution, serving up hearty no-nonsense breakfasts and other much-loved British classics to the good people of Manchester for the last decade.
What should you eat: Got to be one of their iconic fry ups; there's English, Irish, Scottish, Welsh, Veggie and Vegan to choose from!
Price range: Between £9-£11.
What's the vibe: Among the 25 Coolest Restaurants in Britain according to The Times, A Place Called Common is a must visit in Northern Quarter. With a recent Scandi-style designer makeover, the sleek, uncluttered space is now an oasis of calm in the chaos of the city.
What should you eat: Try the Breakfast Burrito, you won't regret it!
Price range: Around 8-10, a Northern Quarter average.
What's the vibe: With sites in City Centre and Chorlton, Brewski specialises in all things North American comfort food.
What should you eat: Hands down the Brewski Brunch Board; a 20 inch board filled to the brim with brunch goodies. Sausage patties, flat iron steak, smokey bacon, sweet potato cakes, poached or fried eggs, buttermilk pancakes, maple syrup, mushrooms, beans, slow cooked tomatoes, (don't worry, it's to be shared between 4!)
Price range: The Brunch Board is £40, but everything else is between £8-£11.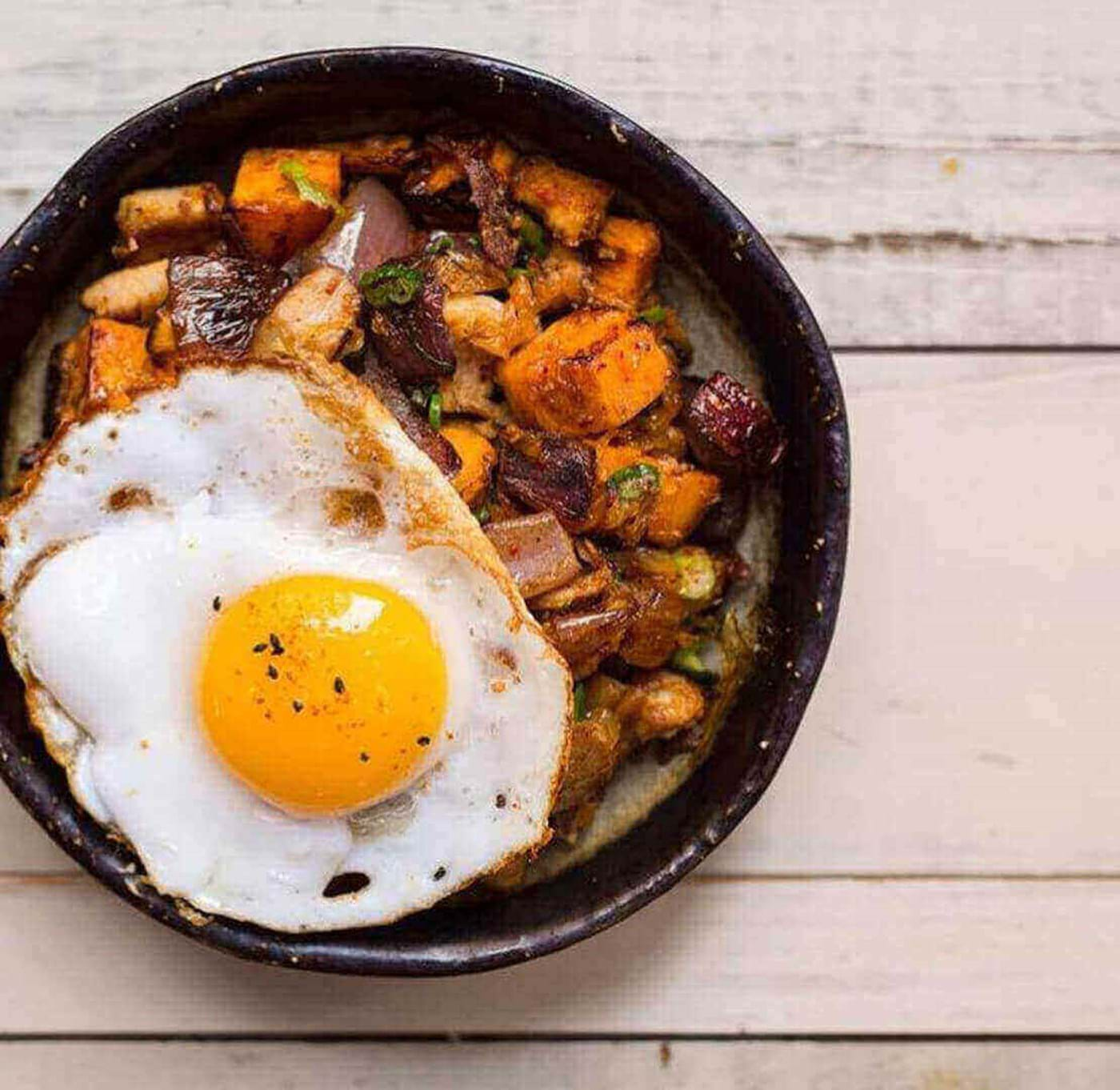 What's the vibe: A Japanese inspired restaurant and bar hosted by a Grade II listed building based in Manchester's Northern Quarter. The brunch menu features everyone's favourite dishes with a Japanese twist, it's an exciting twist!
What should you eat: The Wagyu Brisket Crumpet is delicious; served with poached eggs, onion ponzu and sake mustard sauce! It'll challenge your taste buds.
Price range: Slightly pricier than the average between £8-£14, but so worth it!
What's the vibe: Moose Coffee was founded in 2006. The concept grew from a love for the great American breakfast culture and nowhere does it better than the diners & delis of New York City. Their aim is to provide an American Canadian influenced breakfast and brunch experience with an authentic short order menu.
What should you eat: You have to try one of the Moose pancake stacks, they're a true taste of an American brunch!
Price range: Very reasonably priced at £7-9.
What's the vibe: Located inside a 1858 Grade II listed market building, on the edge of Manchester's Northern Quarter, Mackie Mayor plays home to numerous independent food vendors. Mackie Mayor is from the same family as Altrincham Market, so if you love that, you're guaranteed to love this! It's all about everyone coming together to try something new.
What should you eat: As it is a food hall, there's so much incredible food on offer here. With a focus on well-sourced quality ingredients, you can expect; Tender cow's steak benedict, Wolfhouse Kitchen's incredible cakes, huevos rotos from Little Window to name but a few.
Price range: Dependent on the stall, but usually £8 upwards! On the pricier side but who could resist such a grand dining experience?
What's the vibe: After recently opening in the heart of Spinningfields, much loved chain restaurant Bills is the perfect spot for any meal, particularly brunch. Founded by Sussex greengrocer Bill Collison, Bill's has always stayed true to its roots. Open all day and into the night, they're well-known for their legendary breakfasts that are not afraid to dare to be different. You have to visit this new, cosy home away from home, they've completed ripped out the old Giraffe site and truly made it their own. All of Bill's restaurants are packed full of vibrant colour and vintage decors - all handpicked by Bill himself!
What should you eat: There is so much variety, it's difficult not to try everything. We highly recommend their buttermilk pancakes (as pictured) they're buttery, fluffy and most importantly, drenched in maple syrup. Nom, nom, nom!
Price range: Dependent on the stall, but usually £8 upwards! On the pricier side but who could resist such a grand dining experience?