Long gone are the days of deep-fried Mars Bars and exclusively fast food restaurants lining Glasgow's high streets, Glasgow's food scene has undergone a revolution in the past decade. With unprecedented independent bars and eateries popping up like mushrooms, Glaswegians are challenged more than ever to step out of their culinary comfort zones. These restaurants defy the ordinary in more ways than their menus. Many of these restaurants strive to be as environmentally friendly as possible, attracting a growing number of eco-conscious people.

In respect of Earth Day on 22nd April, we wanted to highlight the restaurants that are dutifully doing their bit for the planet. Eco-friendly restaurants are shaking up the restaurant industry. In recent years, sustainability has been somewhat of a trend. People far and wide are now much more conscious of what they are eating, where it has come from and whether it was produced sustainably.
With a growing interest in what restaurants are doing to help the environment, here is a roundup of the restaurants who strive to be eco-friendly in one way or another.
Locavore
With a shop, café and 3 external farming sites within 10 miles of the city, Locavore is fully committed to being as eco-friendly as possible. They're fully organic, with totally traceable meat, cheese and vegetables, ensuring a positive local food system. Excess produce from the shop is always used in the café to prevent waste.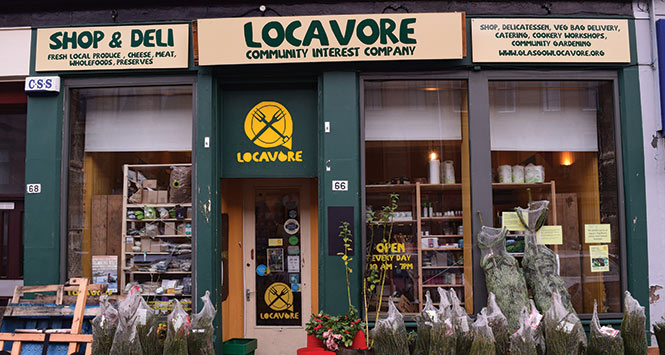 A'Challtainn
A'Challtainn is committed to sourcing eco-friendly seafood and ingredients from local suppliers. Not only does this reduce carbon emissions associated with importation, but it supports the local economy. It's a win-win!
Discover more about their commitment to sustainability here
Stereo
A bar and kitchen dedicated to vegan junk food, ever thought you'd see the day? Stereo has been successfully trading for over a decade, whilst operating in an eco-friendly fashion. By serving an entirely vegan menu, their carbon emissions are reduced by a whopping 73% than a typical restaurant serving meat and dairy. The menu includes sticky sesame cauliflower wings, loaded meatless burgers and 'fish' and chips! It's a winner for vegans and carnivores alike.
Check out the delicious menu here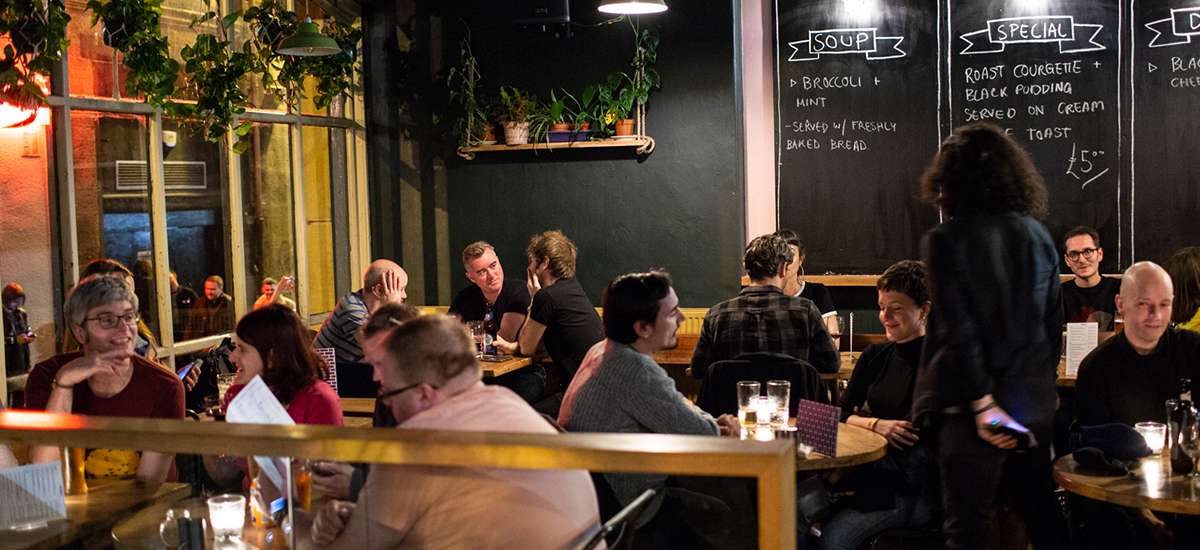 Gamba
Dedicated to serve top quality fish without the environmental implications of overfishing, Gamba is a go to for seafood lovers. Beautiful décor, ambitious menu and delicious food need not come at a cost to the environment here; it only serves sustainably caught fish. Earning itself the highest rating of 3 stars from Sustainable Restaurant Association, you can enjoy seafood without the environmental concerns.
View their delicious range of fish here
The Hug and Pint
Serving an award-winning seasonal menu that focuses on vegan comfort staples (in other words, that are a hug in a bowl, hence the name). The seasonality of the menu allows ingredients that are grown locally to be used, rather than having to import fruit and vegetables out of season. Not only does this keep the menu fresh and exciting, but crucially it limits the carbon footprint of every ingredient used.
The menu changes daily, check out the latest one here