Job perks are becoming an increasingly important factor in people's career choices. According to careers website Glassdoor, 57% of people say perks and benefits are amongst their top considerations before joining a company. Making your employee benefit package stand out from the crowd is a sure-fire way to attract those who are focussed on being rewarded with the best perks in the business!
In recent years there has been a shift in the meaning of work-life balance; a movement away from the idea of a division between the two and towards a culture where they are joined. Offering great benefits that not only contribute towards improving an employee's professional life, but also their personal life is the direction employers should be taking. Making a working environment as enjoyable as possible is the best way to retain and engage existing staff and ultimately attract the best talent.
We have put together a list of the top employers that have taken this idea and ran with it. Check out this list of amazing perks that UK companies are offering for inspiration and see if they are something that can be implemented where you work. Be warned: some of them are even wackier than we have heard whispers about!
1. Travel Allowance
The dream, right? How many employees quit their jobs to fulfil their wanderlust? Holiday home rental company Airbnb have recognised this and offer employees an amazing £1413 ($2000) in travel credit each year. As a travel company that values the importance of seeing the word, they make this accessible for their employees. Not only does this fit with their company culture, but massively reduces churn of those looking at holiday destinations all day long and get a taste for travel themselves!
2. Free Food
The only way to an employee's heart is through their stomach. Google recognise that a fed worker is a happy worker, and a happy worker is inevitably a good worker that will be capable of innovative thinking. The free food is an investment that works for both employees and the company alike.
According to Work Rules: Insights from Inside Google That Will Transform How You Live and Lead, there is even logical thinking behind the placement of the free food stations. They create a space for employees to leave their desks and interact with people that are not situated close to themselves, and "at minimum, they might have a great conversation. And maybe they'll hit on an idea for users that hasn't been thought of yet." At Google, free food works to fuels innovation and save employees money.
3. Work in Ibiza
In recent years, there has been an increase in popularity of flexible working. Spencer Ogden takes this idea and runs with it, recognising the true value of rewarding hard work. One of their main rewards employees work towards is a stint working in their Ibiza offices. Every employee that hits their target three months in a row can pack their bags and head for some sunshine!
Not only does this encourage employees to smash their targets, but rewarding employees with a working holiday is guaranteed to drive loyalty. Employees want a free holiday year on year.
4. Furry Co-Workers
Ecommerce company eWay made an interesting recruitment decision when looking for their "Anti-Stress and Distraction Manager". They chose to hire Harper the Beagle to encourage employee happiness and reduce stress, and we hear that he's doing a paw-fect job so far!
More and more firms are becoming dog friendly in order to reduce stress levels and prevent employees being discouraged from owning a dog. Pets in the workplace have been proven to boost productivity, and prevent people having to fork out for expensive dog sitters. They're a win-win!
5. Work Hard, Play Hard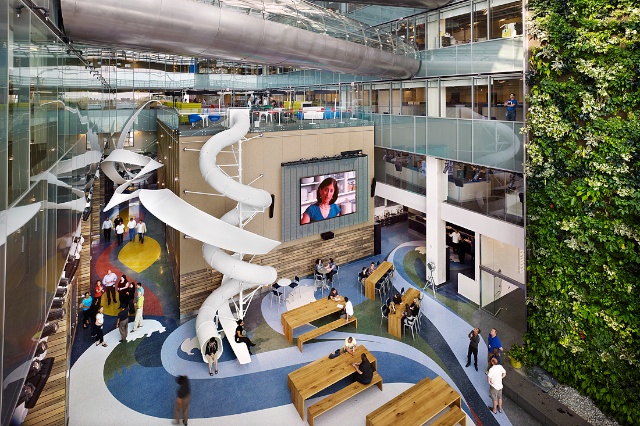 You've heard of slides being installed in offices to unleash everyone's inner child, but Southampton based company Peer 1 didn't stop there. Alongside a giant helter skelter, there's a putting green, giant swing, indoor garden and even a tree house!
Peer 1 believe that offering fun activities aimed to break up an employees working day is the best way to boost productivity. Again, it aids to fuse work and play, making work a more enjoyable place to be.
---